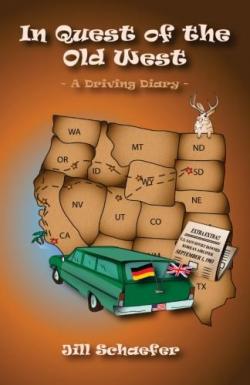 In Quest of the Old West - A Driving Diary
Click link to see all books by this author.
Genres: Non-Fiction, Memoir/Biographies, Creative Non-Fiction. Format: Paperback. Views: This Week 405, Total 1969.
A Driving Journal of Jaunts and Journeys by Jill
As a Cold War dilemma unfolds, an Anglo-German couple, Jill and Horst, drive off on a lighthearted jaunt through the western states of America, their adopted country. Jill keeps a daily journal of their fortnight's trip through the Western States to the Dakotas and back to their home in California's coastal city of Santa Barbara. News alerts of the US/Russia drama up-date the couple on their driving journey of discovery, as they dig and delve into the past, dally with locals, delight at historical sites, and day-dream into the future.
Here are the links to Jill Schaefer's website and two videos on her WWII memoir 'Up The Wooden Hill' and 'Coming of Age in California -English Style-' adventures in 1950s California.
USEFUL LINKS
Jill's website
Coming of Age California Style
Up the Wooden Hill
Search for the title using

(opens in a new window).