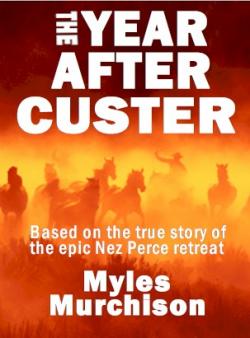 THE YEAR AFTER CUSTER
Click link to see all books by this author.
Genres: Western, Historical Fiction, History. Format: eBook. Views: This Week 380, Total 1436.
In 1877, the year after Sitting Bull's victory at Little Big Horn, the U.S. cavalry chases the Nez Perce nation from its homeland in Oregon's Wallowa Valley. Chief Joseph escapes, leading 800 men, women and children and thousands of horses on an amazing 1700 mile retreat, outwitting five separate U.S. army divisions in a race to reach the Sioux in Canada − to unite with them, the Crow, Blackfoot and other native peoples in a war for the American northwest.

THE YEAR AFTER CUSTER recreates this heroic year in an epic Western drama that reaches from the *****houses of Ogallala to lunch with the Rockefellers in New York City; from the tipi of a Nez Perce shaman who believes The Great Spirit speaks in his dreams to the field tent of Colonel Nelson Miles who dreams of becoming the new Custer; from the Oregon orchards that a half-white widow abandons to guide her people through Yellowstone's secret canyons to a Texas wrangler who flees the law across the Great Plains and finds the passionate and ennobling purpose of his life.

Like LONESOME DOVE or DANCES WITH WOLVES, Myles Murchison's THE YEAR AFTER CUSTER brings to life the glory and myth of the American Western.
Search for the title using

(opens in a new window).