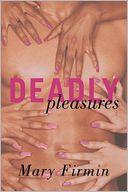 Deadly Pleasures
Click link to see all books by this author.
Genre: Thrillers and Suspense. Format: eBook. Views: This Week 63, Total 2661.
If four men hired and kept a woman for their shared use, would that be a surprise?

Perhaps not, but four women doing the same thing certainly would be, and provided the inspiration for this thrilling debut novel, Deadly Pleasures.

When Megan and her three best friends, disillusioned by the men in their life, hire hunky stripper Michael Harrington as their time-share Boytoy, they are unaware he is a suspect in a series of bondage murders.

Set on California's West Coast and Among the yacht clubbing wealthy, the four women find themselves intimately involved, along with their sweet-talking lover and a handsome detective in the unravelling mystery. But who is the Bondage Murderer? An who will the the next to die?

The answer to these question is only found after a wild ride through L.A.'s private sex clubs, bondage parlors, and the lavish homes and yachts of the rich and famous.

Search for the title using

(opens in a new window).
Alternatively, the author has provided links that you can use to buy the book.
If you want to see the link before you click - hover over a Click to Choose link in the list above.
If you don't see the country or format you want to buy - try a Google Search - this may deliver a book that fits your region or needs.
Important: You don't purchase through Wise Grey Owl - the author decides where you purchase her/his book and provides a link to the purchase site. Wise Grey Owl is not responsible for external links. Please validate the link before you click using a reputable virus checking application.
Good Story, Well Written, Recommended, Well Edited in 5 reviews.
Ian Miller : A very good first book. There are three groups of characters that are well drawn and believable: Matt and two other police, Megan and three other women, and finally the women's husbands/partners/exes, although this latter group are largely elsewhere. There are three subplots, and the author shows considerable skill in running these simultaneously. The women have too much money and are deprived of only one thing: sex. Subplot one has the women seeking a "boytoy" and if this subplot was isolated it is good enough to make, with a little padding, the plot of one of those farcical French films.

Subplot two commences when Matt interviews the women, who are sunbathing on an expensive yacht. Matt is an Adonis, black hair, blue penetrating eyes, Megan gets an immediate crush on him and it is reciprocated. Of course they cannot acknowledge their feelings straight away, but they do bump into each other from time to time, sometimes literally, hence subplot two, which I assume is a female romance. (I don't read these, so I may be wrong here.)

Subplot three is the nominated plot. A number of women, usually prostitutes, are brutally murdered and carved by a psychopathic serial killer. Matt and co seek out the killer, while Megan blunders through the scenes, which emphasize the darker S&M outlets of LA. I have no idea whether the descriptions are realistic but they are well-described. There are plenty of red herrings and while there are enough real clues for the reader to get a rough idea what is going on (if you can eliminate the red herrings) I did not see any clue to pick the villain with certainty. Had there been a genuine subtle clue earlier, this could have made a first rate mystery. Finally the story ends with a reasonably lengthy action scene that really flies in which the author does extremely well not to make Megan a superwoman. This genuinely qualifies for the thriller lable.

The book flows well, but there are some weaknesses. Subplot 2 is very strongly flagged at the beginning. Had Matt's appearance been more normal, and had he been distracted by the sunbather desperately covering up certain parts with a sunhat, subplot 2 would have held more tension. Then, the end is a little implausible, with a psychopathic serial killer being coy about killing, seemingly to prolong the scene. Most best-selling thriller writers also succumb to this as well, so mary Firmin is in good company. But these are small points. This is a really good buy and 99 cents is a ridiculously low price. Get it before the author realizes it and raises the price. Finally, if the author ha more stories in her and if she hones her craft, her later books should be extremely good. Keep an eye on her.


Brenda Sorrels : If you want a great ride, something exciting and fast paced, then this is the perfect book to read. Things heat up right away in the opening scene where a drugged-up prostitute, Sherrie, (red garter belt and lace) is having sex with her trick, George. George is a member of the Bayside Yacht Club where our protagonist, Megan Riley and her three rich girlfriends hang out. Between grunts, groans and lots of sweat, George studies a framed photograph of Sherrie with her close friend, another prostitute named Allison, who was brutally murdered six months prior. George dies in ecstasy having an orgasm with Sherrie and the women of the Yacht Club are about to be pulled into a murder mystery!

As prostitutes continue to turn up dead, things ramp up even more and the Yacht Club ladies, as an antidote to their cheating husbands and boring lifestyle, hire a boy-toy. Megan, a struggling real estate agent and recovering alcoholic, is a breath of fresh air in the group and goes along only because of their friendship. There is a taste of reality TV in the superficiality, the cattiness, the whining. I could picture all of the women, except Megan, on "The Housewives of Orange County!" The boy-toy thing was amusing and a gutsy turn on the double standard. The plot thickens when their boy-toy turns out to be suspected as the killer.

Enter Matt Donovan an LAPD detective, widower and all-around good guy who is determined to find the horrific murderer….(victims are mutilated, their right breasts cut off) Megan and Matt are soon an item. The ride continues… on and off yachts, into the world of sadomasochism - scenes all vividly described and well rendered, very real. I admit I did learn something here. There was one "club" that was located in a house on top of a hill and people had to take a tram and have a password in order to get in. It was a party like I've never seen and reminded me of that Tom Cruise/Nicole Kidman movie "Eyes Wide Shut."

The story never loses it's roller-coaster pace and there is a thrilling scene in the end set on one of the yachts that left me on the edge of my seat. The ending was my favorite part of the book. All of the loose ends came together and all of the scenes paid off in a satisfying way. So, take your e-reader on the plane or grab your towel and hit the beach. Let "Deadly Pleasures" engage and entertain you in a really fun way!

Sandra Nachlinger : When yacht-club friends Megan, Alex, Kathleen, and Rachel decide to share a boytoy lover (sort of a human timeshare arrangement), they have no idea that the man they've selected is the prime suspect in the gory Bondage Murders. Through a series of circumstances, Megan soon finds herself drawn into the murder investigation, which takes her from L.A.'s society soirees to its BDSM and sex clubs. As her involvement grows, so does the mutual attraction between Megan and hunky L.A. police detective Matt Donovan, and Megan begins to believe that he may be Mr. Right. But when she discovers the killer's identity, will she live to find out if Matt's the one?

The action in Deadly Pleasures is nonstop, taking the reader from the lifestyles of the extremely wealthy to the seamier side of Southern California. The author's descriptions put you right into the middle of the action. A warning however: this book is not for the squeamish. The murders are grisly. However, they are believable and appropriate for the story.

By the way, I appreciate the fact that this book was nicely formatted and without grammatical errors. That left my mind free to enjoy the story without distracting mistakes.