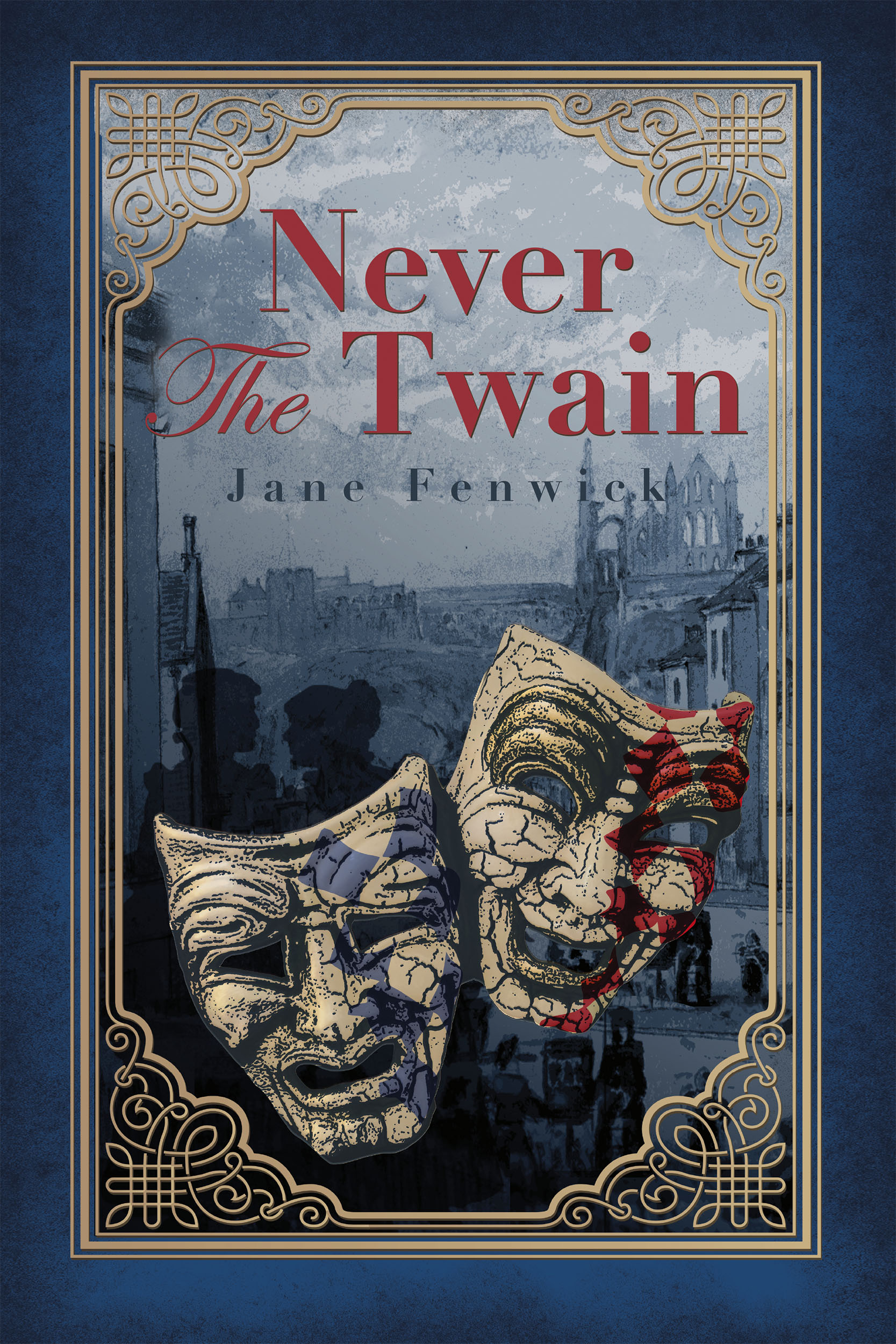 Never the Twain
Click link to see all books by this author.
Genres: Crime, Historical Fiction, Romance. Format: Multiple. Views: This Week 231, Total 704.
The author has indicated that this book is not suitable for children and young adults.
Never the Twain. Synopsis. Whitby 1893
Never the Twain is a gothic crime novel set in Victorian Whitby. May, the central character, is one half of identical twins. Although she has a strong bond with her sister April, jealousy comes between them when the wealthy Edward Driscoll chooses to marry her sister rather than her. At first May thinks to swop places with her sister but he can tell them apart. The scheming May will stop at nothing to get her heart's desire and his money. She devises a plan to have the man she has wanted since the first time she saw him: a plan that ultimately end in his murder.

When Elizabeth Buchanan, an actress, gives birth to twins, she does not intend to be burdened with them. Abandoned by her married lover, she leaves them in the care of her sister, the landlady of a coaching inn, and heads back to the bright lights of the London stage. April and May are identical twins born in different months; April is born at five minutes to midnight on the thirtieth of April, and May is born on the first of May at ten past midnight.

Seventeen years pass and the twins grow into beautiful young women. Their lives take an unexpected turn when the woman they have always known as their mother dies, leaving them penniless. Elizabeth, nearing the end of her acting career, does not intend to be saddled with the twins again. She has, at long last, secured an offer of marriage so places them in a high class brothel in the care of her old friend Velda Jansen, a madam of Dutch descent and few scruples. The plan is to sell the twin's virginity to the highest bidder on their eighteenth birthday. The twins have no choice but to go along with the scheme, but May in particular, has no intentions of prostituting herself for lecherous, old men and little reward. She sets about trying to find a way to escape.

When Captain Edward Driscoll, a handsome, wealthy shipping tycoon visits the brothel at the eleventh hour, they hope their lives will change for the better. May hopes he will bid for one or other of them; she wants him to bid for her; she thinks she will be able to persuade him to take her as his mistress and thereby free her from the clutches of the madam.

Edward Driscoll has other ideas. Although the twins are identical he can tell them apart and has taken a shine to the April, the more innocent of the sisters. Before the twins are deflowered he pays the madam handsomely to free both twins from the brothel; April refuses to leave without her twin sister He takes them both to his home port of Glasgow. He intends to court, and then marry April; she however, fears they have swapped one form of slavery for another and is not eager to marry him. May, finding herself in the lap of luxury, is frustrated at her twin's intransigence and begs her to go along with the arrangement. Once they are ensconced in his lavish mansion May hopes to change his mind and marry him herself. Edward is true to his word and behaves like a perfect gentleman. He courts April and wins her admiration, much to May's chagrin. He marries April.

May, who has been besotted with Edward from the start, is forced to play second fiddle to her sister. May is jealous and manipulative but prepared to wait for an opportunity to step into her twin's shoes. In the meantime May sets her sights on Edward's older brother Alistair. He is heir to the fortune and single and she begins to see him as better bet than her brother-in-law. She wins him round but at the last moment is thwarted in her attempt to marry him when his first love returns to Glasgow, newly widowed. He marries his old flame. May is angry and changes her allegiance back to Edward. In the meantime she takes a lover; she has no intentions of lowering her lavish life style by taking a husband who is poorer than the Driscoll brothers. She will bide her time.
The twin's life of opulence is marred when April is unable to produce a son and heir. She has had three miscarriages. Her sister proposes an imaginative solution to the problem; she offers to take her sister's place in the marital bed hoping to produce a son that April can pass off as her own. Edward, however, is the only person besides their mother, who has ever been able to tell them apart so May's plan has to be devious and carefully constructed.

Over the years April has learnt to love Edward, she is loath to share him. Although she has suffered miscarriages, he has remained loyal and kind, although he is desperate for an heir. He, meanwhile, has taken to drink in frustration. May, fuelled by jealousy convinces April he will tire of her without an heir and take to whoring, or worse take a mistress. May devises a plan where she sleeps with Edward while her sister recovers from her latest miscarriage. April despite misgivings agrees to the plan; after all she reasons, she met him in a brothel and he may well stray to one again. Although she does not want to lose him she sees adopting her sister's plan might secure both their futures.

May has always loved Edward and now she is to have him, in body if not in mind. The sisters know he can tell them apart but reason if it is candlelight and he is intoxicated, then he can be tricked. The plan works and May becomes pregnant, but she is unsure who the father is; the baby could be Edward's or her lovers.
May and April return to Whitby, ostensibly to take the waters, but really for May to hide the fact she is with child. They convince Edward that April is the mother through elaborate plans devised by the scheming May. May gives birth to a son in Whitby and reluctantly gives him up to her sister. She feels an immediate bond with the baby she never imagined she would have. It is a bond almost as strong as the one she has with her twin.

On their return to Scotland Edward finds out he has been duped and is angry with May and heartbroken by his wife's betrayal; he truly loved April. Now he has his longed for son he gives April an ultimatum; if their marriage is to continue her twin, who has always lived with them, has to go. He suspects, rightly, the manipulative May is the one who devised the plan. He forgives April and banishes May.

However, Edward has been conducting an affair with May unbeknown to April. When Edward throws May out, driven by jealousy, loss and betrayal she sets about poisoning him by doctoring his favourite whisky with nicotine. She also inadvertently kills his sister by the same method.

The murders are discovered but the authorities do not know which twin to prosecute as they cannot tell them apart and both are confessing to the murder, each to protect the other. May convinces April to withdraw her confession but she has another scheme afoot. The day before May is to hang April is allowed to see her twin one last time. They switch roles and May goes home leaving April to hang for the murder she did not commit. On the same day that April hangs, May smothers her son and kills herself with the same poison she used to kill the man she had always loved. Before she kills herself May sends chocolates poisoned with nicotine to her real mother whom she blames for everything that has happened.

Search for the title using

(opens in a new window).
Alternatively, the author has provided links that you can use to buy the book.
If you want to see the link before you click - hover over a Click to Choose link in the list above.
If you don't see the country or format you want to buy - try a Google Search - this may deliver a book that fits your region or needs.
Important: You don't purchase through Wise Grey Owl - the author decides where you purchase her/his book and provides a link to the purchase site. Wise Grey Owl is not responsible for external links. Please validate the link before you click using a reputable virus checking application.